After seven years of development, Raymond Brown were granted planning permission in 2011 at Roke Manor. The facility was opened for business in 2015 and involves the extraction of 750,000 tonnes of sand and gravel at a rate of 125,000 tonnes per year.  As the mineral is extracted, the site is being progressively restored back to agricultural land using inert construction arisings.
The quarry supplies sand and gravel into the local construction market for use in concrete, general building and decorative materials.
Extracted gravel is transported to a state-of-the-art processing plant by overland conveyors to reduce the impact from the heavy plant movements.  The plant processes the gravel to produce a range of high-quality aggregate sizes and sand.  Modern technology is used to remove silt from the wash water so that it can be recycled and the residual silts used in restoration.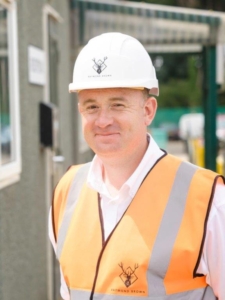 Justin Ebbutt
Quarry Manager
Justin has worked with Raymond Brown for over six years, having previously managed Nursling Recycling Facility, prior to its sale to the Collard Group.  Justin takes a huge amount of pride in his work, he is a strong leader and has good relationships with the quarry teams at both Brickworth and Roke Manor.  He has excellent communication skills and has hosted numerous school visits to sites and open days as part of our Community Matters initiative.